Joint with Topo.ai, Regroup, and Constant Technology, we are sharing the recent findings from our Security Operations Benchmarking study with Security Magazine Webinars.
How are your peers achieving success in security operations? From the 2022 Security Operations Benchmark Study we've identified the top contributing factors.
Join us for this webinar to learn:
Top factors most frequently linked to SecOps success; and lack of success
Most persistent SecOps challenges and which are most important to mitigate
The importance of measuring cost avoidance and ROI
Today's reality: proactive vs reactive security risk postures, and aspirations for the future
Our panel of experts will examine these findings and more, and offer actionable recommendations for mitigating challenges and achieving your objectives. Participants will receive 0.1 CEU for this program and a copy of the Security Operations Benchmarking Study Report.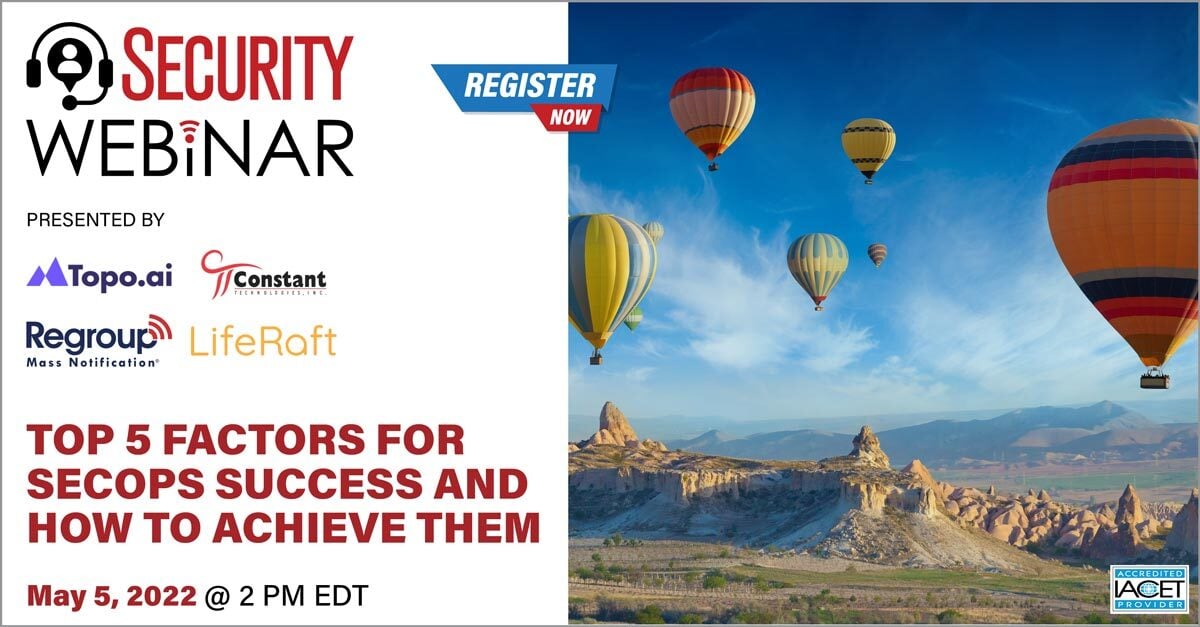 SecOps Benchmarking Study Foreword from Michael Gips
In the mid-1990s, a screensaver on my PC would scroll through a series of witty or trenchant comments. One was, "There's been an alarming increase in things you know nothing about." Humorous as that is, it hit home for me, and continues to do so. But in my three decades since in this field, I could be forgiven for believing that I had a pretty good handle on security.

Then this report comes out, requiring me to recalibrate. While many of the principles of security remain the same, the world around our profession does not. Technology, threats, geopolitics, and ideology continue to evolve and require us to update our mindsets, strategies, tactics, and operations.

Many of the findings in this important research confirm things we knew we knew and substantiate important correlations. But others will challenge how we think and
operate. It makes sense that when executives make security a priority it leads to success in security operations. Similarly, calculating ROI for security operations corresponds to above average success in security operations.

On the other hand, our profession has christened this as the era of proactive security, moving on from the reactive security posture of the past. Some have even claimed that we are already well into the predictive phase of security management. So it may come as a shock that a mere 17 percent of respondents describe their security approach as proactive. Perhaps equally surprising: 73 percent of respondents expect their organizations to be more proactive than reactive in two years. Perhaps we should applaud the aspiration inherent in those responses.

Also eye-opening are the responses to the question asking which strategic objectives are considered critical. Threequarters of security professionals say their organization deems life safety critical. The number seems robust, but what is more critical than life safety? Emerging from the social and economic wreckage of the Covid pandemic, you might expect operational resilience and continuity—the ability of a business to survive disruption—to be almost universally considered a critical objective. You'd be wrong. Fewer than half of the respondents identify resilience and continuity as critical.
Other incongruities appear when comparing how respondents prioritize operational objectives with how successful they have been in addressing them. The highest priority objective, "Ensure accurate alerts from situationallyappropriate sources," does indeed garner the highest percentage of respondents who consider it to be handled in a highly successful way. But the second and third most highly successful objectives, "Ensure thorough effective assessment of threats and security incidents" and "Reduce crisis response time," are only the fifth and sixth highest priority objectives.

In fact, some of the most interesting findings are the deltas among responses. A whopping 94 percent consider adapting quickly to new threats and risk to be a high or critical priority, but only 36 percent say they have been highly successful in it. Measuring and reporting the effectiveness of security operations has even a bigger gap: 80 percent critical or high priority, 18 percent highly successful. This makes for intriguing analysis.

These are but a few of the fascinating findings in this report. The data raises as many questions as it confirms preconceptions. That's a good thing—we need to continually take stock of our operating environment and adjust accordingly. Turns out there may be an alarming increase in things you don't know about, too. Enjoy the findings.

Michael Gips
---

Michael Gips, JD, CPP, CSyP, CAE, is a security professional, attorney, writer, and business executive. He is principal of Global Insights in Professional Security, where he consults for security executives and firms. Previously he served as the Chief Global Knowledge and Learning Officer for ASIS International, where he developed the CSO Roundtable (now CSO Center). He also served as editor and publisher of Security Management, where he wrote hundreds of articles.

Mike has received many commendations, including Outstanding U.S. Security Consultant (OSPAs,2022), sixth most influential security thought leader (IFSEC, 2021), and one of the most influential people in security (Security magazine, 2019). He has received more than a dozen awards for his writing.

Mike has authored many research publications on a variety of security topics, including a forthcoming chapter on security professionalization coauthored with Dr. Alison Wakefield (2022).