The online research community is a melting pot of diversity. Open-source intelligence analysts come from a wide range of professional backgrounds, and about 50% of analysts conduct OSINT work in their spare time.
Given the vast array of backgrounds and time constraints, it is unsurprising that most analysts favor social media monitoring tools that are free of charge and have clear functionality descriptions and usage guidelines.
In the same way that combing through social media data can be overwhelming, so too can identifying the best and most cost-effective social media tracking tools.
We've identified nine top free social media monitoring tools every analyst should know about to simplify your life. While this list does not represent the last word on every available option- it does provide a great starting point.
Let's dive in.
SMAT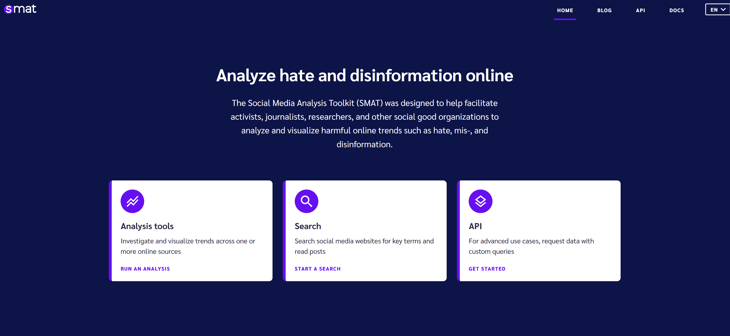 Thanks primarily to social media, businesses have become the new target for disinformation campaigns. Effective campaigns can wreak havoc on businesses, causing substantial damage to their brand equity and hampering daily operations. Moreover, false rumors can potentially jeopardize the safety of both customers and employees. Enter SMAT.
This free social media tracking tool pulls data from dark web platforms like Parler, Telegram, Gab, 4Chan, and 8kun- networks that have become the breeding ground for creating and disseminating harmful narratives and real-world violence. SMAT then provides straightforward ways to analyze and visualize that data for analysts and organizations concerned with monitoring emerging threats. For example, easy- to use- data visualization tools like Timeline, Link Counter, and Hast tag Director allow analysts to find top users and sub-forums discussing a specific topic. Or, analysts can quickly search critical terms and read posts on various platforms. Even better, users can pivot between new leads without reading through disturbing content in its original location.
Hashatit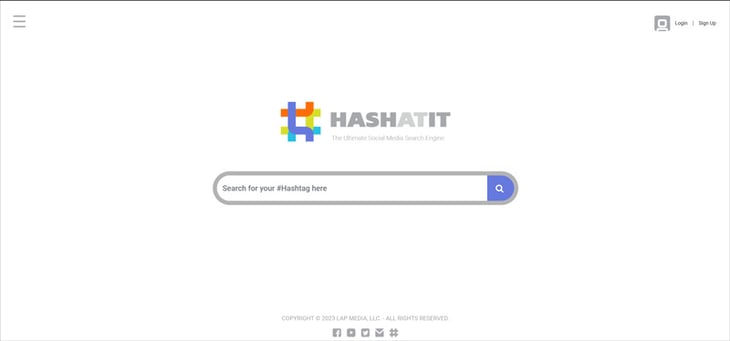 Hashatit is a social media monitoring tool that identifies unique hashtags. This platform offers advanced search features to include more detailed information, but like other search tools, there are some limitations. Unlike SMAT, Hashatit does not cover Chan boards, message boards, or different corners of the internet where threats may breed.
DiscordLeaks
Tragedies like the one in Allen, Texas, underscore how common it is for political extremists and threat actors to express their intentions online. To that end, DiscordLeaks on Unicorn Riot has created this free social media monitoring tool containing thousands of leaked messages from the most active white supremacist groups in the United States. While many of these conversations were hidden from the public, Discord Leaks has made these chats available to journalists, researchers, and intelligence analysts to use in their work.
Bellingcat TikTok Analysis Tool
TikTok has emerged as one of the world's most successful social networks. It boasts over 1.4 billion active monthly users- placing it ahead of established platforms like Pinterest, Instagram, and Facebook. It's astonishing growth has made it a valuable social media tracking tool for open-source investigators.
The Bellingcat TikTok analysis tool allows analysts to collect a dataset of TikToks connected with specific hashtags over a more extended period. Additionally, it provides insight into what other topics appear together with specific hashtags most consistently. Analyzing patterns in the joint use of hashtags can help analysts spot coordinated influence or disinformation campaigns. Additionally, if the same set of hashtags is used repeatedly, examining a large cohort of posts can provide contextual insight for specific hashtags.
Social Mention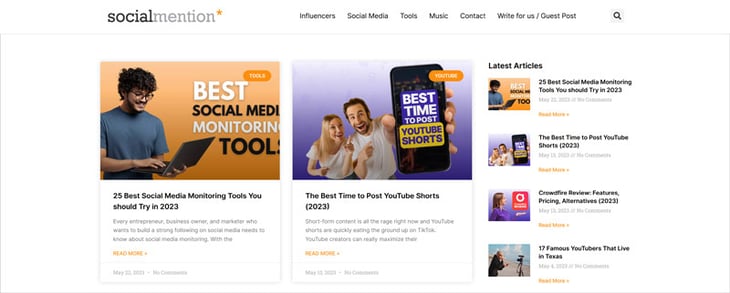 Social Mention uses specific terms and phrases to filter through 100 different social media platforms, including well-recognized social media channels like Facebook and Instagram and smaller channels where threats tend to originate. The easy-to-use interface that operates similarly to a Google search makes it a simple task for security teams to enter in key phrases or search terms and let Social Mention do the rest.
Telepathy
Telegram has become the go-to "free speech" platform. Today approximately 550 people use the service every month. Accordingly, security teams have started paying more attention to this platform and considering the best tools to conduct their investigations.
Telepathy is described as the "Swiss Army Knife" of Telegram tools, allowing analysts to archive Telegram chats. Archived data include replies, media content, reactions, and comments. Additionally, Telepathy gathers member lists, analyzes top posters in a discussion, and maps forwarded messages. This tool has significant uses for identifying potential threat actors and locations.
Location Based Social Media Tracking
Snap Map
Created by the brains behind Snap Chat and launched in 2019, Snap Map appears as a color-coded heat map that allows users to see geotagged social media posts in all corners of the globe. Because of its color coding (and tight guidelines that prevent users from sharing false location coordinates), Snap Map is an easy way for analysts to monitor highly active areas during an emergency, like a natural disaster or criminal attack.
Facebook Live Map
Rolled out in 2019, Facebook Live Map is a social media monitoring tool that allows users to locate live streams from around the globe based on location. Streams appear as blue dots. Larger dots indicate streams with the most viewers. Hovering over a dot starts the stream, and outgoing lines indicate where people worldwide are also watching. Streamers' and viewers' exact locations are withheld for privacy. Like Snap Map, Facebook Live Map seems to have significant applications for threat monitoring- in the case of a natural disaster or emergency, identifying and watching the large dots could potentially provide increased situational awareness.
Trendsmap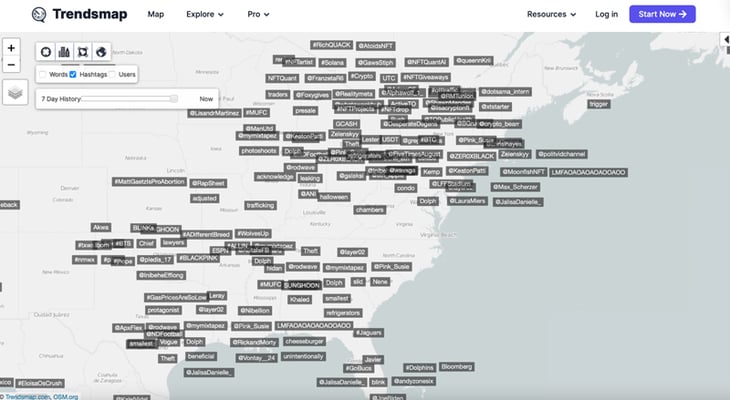 While Snap Map and Facebook Live Map can provide clarity for ongoing emergencies and situations, Trendsmap focuses on the conversations occurring in different locales worldwide. This social media intelligence tool displays hashtags and keywords trending in every corner of the internet, allowing security teams to identify important conversations in crucial areas that connect with their organization.
Navigator
While not free, since OSINT tools for social media are our bread and butter, we want to take a quick look at our Navigator software.
Liferaft's Navigator ensures early risk detection across the broad spectrum of social media and related user-generated content, which includes major and minor social media platforms, blogs, forums and message boards, classified sites, and deep and dark web sources. As a result, it's the most comprehensive tool available, and it saves security teams and analysts resources and valuable time by eliminating the need to use multiple devices and apps to get the job done.
Featuring real-time threat detection and alerts, as well as 24/7 monitoring that is both detailed and automated, Liferaft's Navigator is the best SOCMINT tool available for analysts who want to remain aware of current trends.
---
The Bottom Line on the Top Free Social Media Tracking Tools
Finding the best social media tracking tools does not have to break the bank. The right tools can automate routine tasks, making spotting threats against your organization and investigating possible leads easier. And that will go a long way toward keeping your assets, employees, and customers safe.
Contact our team today, and learn more about how you can use social media monitoring tools to make your organization and your personnel safer from the inside out.