Platform Overview
Our unified intelligence platform automates collection and filtering, and provides a suite of investigative tools to explore and validate threats. Uncover critical information that impacts the security of your assets and operations.
Save valuable time and resources by leveraging the power of Navigator.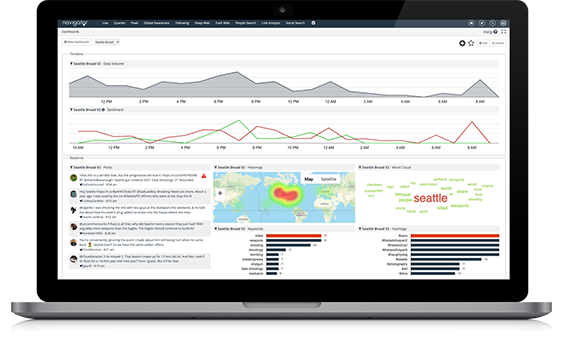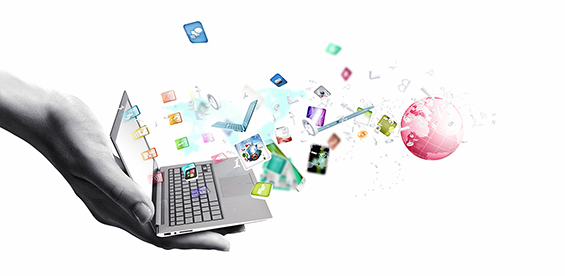 Aggregate Your intelligence sources with
Automated Collection
Navigator monitors the internet 24/7 with custom search criteria to detect high-risk threats to your people, assets, and operations from diversified sources.
Social Media
Blogs, Boards, Forums
Alternative Social Channels
Classifieds, Paste Sites
Deep Web sites
Dark Web sources
Customize your visualization with
Filtered Intelligence
Finding the needle in the haystack is a growing challenge for security operations teams. Navigator provides advanced filtering tools to capture the breadth of the online threat landscape.
Custom Keyword Tracking
Boolean Search Terms
Curated Threat Feeds
Geo-location
Inferred Location
Analyst Annotated Events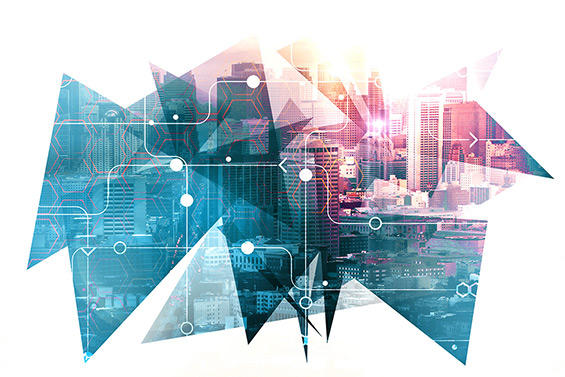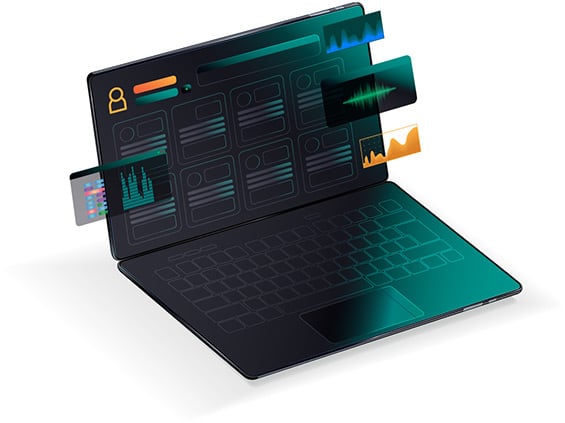 ANALYZE & VALIDATE YOUR INTELLIGENCE WITH
Investigative Tools
Uncover, explore,

and use a variety of sources to

validate intelligence related to threat actors, events, and special interest projects or security issues.
Identity Resolution
Targeted Monitoring
Threat Intel Management


Dashboards/Visualization
Sentiment Analysis
Threat Connectivity


Notify your team with
Alerts & Reporting
Send or receive alerts or summary reports in relation to events, assets, or operations. Navigator sends push notifications of intelligence that meets custom notification criteria.
Real-time Alerting
SMS, Email, Mobile App Alerts
Slack Alerts
Reports/Alert Summaries
API Integrations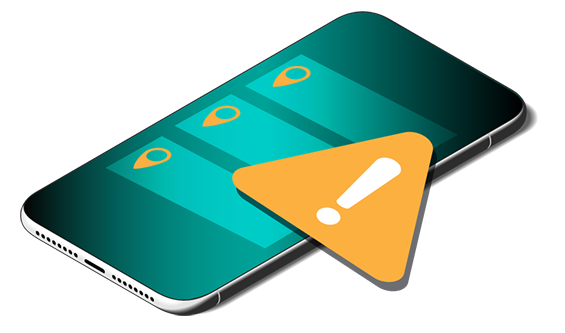 A screenshot of Navigator's Global Awareness feature
Global Awareness
Display company assets on the map and alert your team of potential threats within a custom radius, including extreme weather, disruptive events, public safety, etc.
A screenshot of Navigator's Live Monitoring capabilities
Live Monitoring
Gather and filter data from millions of online sources with custom parameters, reducing the noise to return only the most relevant posts and intelligence.
Navigator's Dossiers feature
Threat Management
Simplify your investigations by consolidating intelligence discovery, validation, and ongoing management of threat actors, specific events, or business entities.

Anti-Piracy/Content Protection
As the world continues to expand and evolve online, new piracy methods are challenging intellectual property divisions everywhere:
Identify unauthorized use of IP on the internet

Uncover niche "how-to" guides for bad actors

Monitor unique sources for leaked content

Detect counterfeit materials on marketplaces/forums

Discover/track streaming sites

Conduct investigations and perform identity resolution
Asset Protection
Monitor for threats to your executives, employees, infrastructure, and offices.
Identify threats of violence or safety-related concerns
Monitor for severe weather or issues from ongoing global events that could impact the security of your assets
Be notified of location-based activity that may disrupt your operations based on risk-level or proximity
Investigate and track niche sources for security intelligence
Display dynamic mapping and data visualization for ease of analysis
Brand Protection / Public Relations
Be prepared in the event of a crisis or issues that may challenge brand protection:
Filter and analyze data to understand trends, influencers, and conduct market research

Monitor customer/stakeholder sentiment

Analyze how current Issues impact your operations

Investigate controversial conversations surrounding your brand

Aggregate and consolidate data for crisis management
Business Continuity
Understand how information on the internet can inform your decisions and provide intelligence for critical operations.
Identify disruptions to supply chain, infrastructure, and other key assets or operations

Monitor and investigate emerging events impacting your industry/company

Investigate connectivity within networks related to your business

Discover threat actors that impact your business

Identify pertinent online authors and intelligence related to identity resolution

Consolidate and manage intelligence from within a single collection & investigation platform
Crisis Response
Follow emerging situations and global or local activity to better inform crisis response plans and reduce reaction time for key operations.
Display curated threat feeds specific to a location and/or scope of work

Use dynamic global and local mapping tools for severe weather, health & public safety, disruptive events (planned or emerging)

Be notified of activity within a predetermined radius of static assets in real-time or a specified alert cadence

Apply advanced filtering by keywords, risk level, source channel, etc. to reduce noise and return actionable intelligence

Leverage online crowd-sourced intelligence along with analyst-verified event activity

Understand impact from past events to develop future preparedness plans
Cyber & Intellectual Property
Monitor difficult-to-navigate deep web and darknet sources with custom search criteria to uncover a wealth of information that is traditionally inaccessible.
Monitor for leaked data, such as doxxing and sensitive personal or business information

Identify vulnerabilities and exposure to threat actors

Monitor for cyber threats to your systems or employees, including planned DDOS attacks, phishing scams, etc.

Analyze trends within cyber security and which industries are experiencing targeted attacks

Investigate brand and employee social exposure

Investigate leads and online aliases with curated sources and access to our darknet search engine
Executive Protection
There is a wealth of intelligence from online sources that can help security teams manage threats and exposure to their executives:
Targeted monitoring of events, entities, and bad actors

Physical & digital threat detection related to an executive or their families, associates

Understand and analyze social engineering exposure

Perform travel/location research & analysis

Uncover PII and doxxing on the deep web & darknet

Perform due diligence for assets, operations, & business entities
Event Security
Use OSINT and investigative tools to protect your physical and digital perimeters for sports & entertainment, conferences & tradeshows, major business events, disruptive events, or evolving global circumstances
Investigate known threat actors or uncover key intelligence to conduct identity resolution

Monitor activity of interest, relating to topics, locations, or online authors of interest

Set up custom search queries for intelligence relating to intrusions, acts of violence, counterfeit, or other disruptive activity

Analyze custom dashboards with curated threat feeds, dynamic mapping, and high-risk posts for monitoring

Conduct investigations on networks of interest, connectivity, and relationships to executives or business interests
Fraud
The online threat landscape continues to expand with new sources and sites emerging daily, increasing space for bad actors to perpetuate their scams and advance their fraudulent activity.
Investigate known threat actors or conduct identity resolution

Monitor for imposter accounts, misrepresentation, scams, how-to guides, etc.

Identify false advertising campaigns and analyze the impact or security exposure

Search for and track the promotion/sale of counterfeit materials or services

Follow authors of interest and learn more about connectivity within networks or in relation to those with sensitive information

Retain data, consolidating information into a central platform for further investigation or case management
Location Monitoring
Whether a fixed asset or garnering intelligence for travel, business expansion, or operational impact, monitoring locations of interest is critical to security operations.
Monitor for physical, cyber, environmental, or situational threats or events that impact business continuity
Leverage analyst-annotated notices on events around the globe for risk assessments and reporting
Contextualize both proximity and high-risk events within a custom radius to your fixed assets
Uncover information for identity resolution or to garner further intel on known threat actors
Customize notifications for first-alert or a specified cadence of summary reports
Display location-based data on customizable dashboards for ease of analysis and ongoing monitoring

Broadcasting &
Telecommunications

Commercial &
Information Technology

Consulting &
Professional Services


Manufacturing &
Consumer Goods



Retail & Property
Management


Transportation
& Logistics

Request a Demo of Navigator
Let us show you the power of our platform and how to customize intelligence collection to identify and investigate threats or security risks.