By Rachel Kronenfeld, Hg's Manager of Investigations
Rachel Kronenfeld, Manager of Investigations at Hetherington Group, is an active user of the LifeRaft Navigator platform. She and her team have been able to successfully use Navigator for open source intelligence investigations and have reviewed Navigator alongside some other OSINT tools.
---
In this three-part blog series, we review three fee-based tools on the market today: Echosec, LifeRaft Navigator, and Dataminr. These reviews are based on actual Hg case studies that include monitoring a sensitive protest, a company's event, and their executive team or brand reputation in the same month. We can say from experience where these products deliver, how easy they are to use, and how each is growing. For the review, we also interviewed account executives from some of these companies, to hear what they consider to be the strengths and opportunities lying ahead of them.
Last week, we reviewed Echosec and its myriad useful functions for investigators tracking individuals, companies, or brands in real-time. This week, we focus our attention on LifeRaft Navigator.
---
LifeRaft Navigator
LifeRaft is another Canadian company, based in Nova Scotia. Its Navigator product has many of the features of Echosec, including saved geo-location- and non-geo-location-based searches, which LifeRaft calls "queries." Creating and editing a query is fast and user-friendly. You can also duplicate a query and edit from there, which can be helpful if you have a strong keyword list you would like to work from for more than one client. Navigator also has the ability to filter by, or exclude, geo-keywords and keywords. Notification settings can be set for only high-risk key terms or for all results. Having touched upon these standard features, we will discuss some of the additional strengths of Navigator.
One of our favorite features of Navigator is Social History. Social History is used for profile analytics, not for monitoring. Navigator downloads the history of a specific social media profile, including Twitter, YouTube, Tumblr, VK, and Reddit. Within this history, a user can filter by key term, date, or posts with specific geo-coordinates, among other features. If you need to determine each time a specific Twitter user mentioned a threatening term, your company name, your executive's name, or your brand, you can search against the profile and see each mention.
New Features
Navigator has introduced a number of new features including a global awareness search for events and news media. This caters to the physical security of people, assets, and infrastructure—alerting you to national disasters, major transit issues, HAZMAT events, terrorist attacks, or other global issues.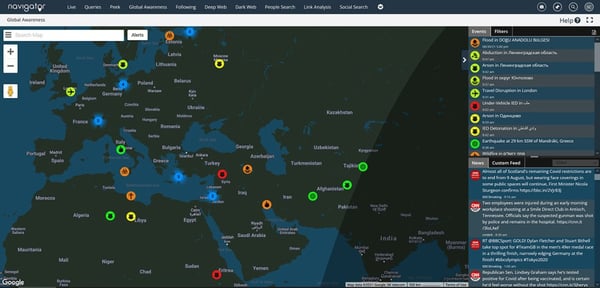 Global Awareness displays emerging global risks and localized event data.

Deep & Dark Web
Navigator's platform has Deep Web and Dark Web search capabilities. Deep Web searches aggregate content to find examples from paste sites, anonymous chat boards, classifieds, and blogs. This capability adds another layer to your search to find someone selling your product or damaging your brand.
With Navigator's Dark Web search capability, the platform captures cached Dark Net content that appears on TOR, I2P, Freenet, and Zeronet sites and can be narrowed down by email addresses, data leaks, and other filters. Here we have found leaked company information or email conversations as well as concerning discussions regarding extremist groups attending an upcoming protest.
---
Is this a complex interface? It is. You may need demos or training sessions to get maximum benefits from Navigator's features. LifeRaft account representatives are quite knowledgeable about their Navigator platform; and, with their guidance, you'll discover the interface to be quite user friendly.
---