What's happening
Big tech companies have long held terms of service that explicitly prohibit the use of their platforms and systems for hate speech, inciting violence, and dangerous propaganda.
Since the riots at the capitol building in Washington, and widespread alt-right activity across the United States, major, traditional social media companies are cracking down on their terms of use and removing extremists including white supremacists, neo-nazis, and the alt-right accounts from its networks.
Many individuals, including the current President of the United States, have been banned from social media sites like Twitter, citing "the risk of further incitement of violence".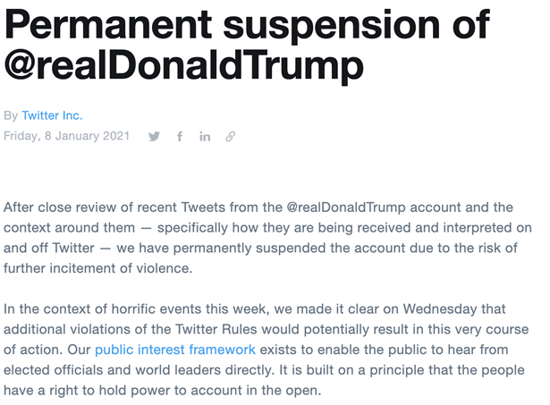 Following Trump's suspension from Twitter, a surge of the social media platform's users flocked to Parler, which has been likened in functionality to that of Twitter.
Parler, the American-based microblogging site has recently been under fire by big tech companies for its role in proliferating recent violent events in Washington and across the United States. Companies including Amazon, Apple, and Google, have removed Parler from their platforms.
A letter from Apple to Parler on January 8, 2021, advised "We want to be clear that Parler is in fact responsible for all the user generated content present on your service and for ensuring that this content meets App Store requirements for the safety and protection of our users," according to The New York Times.

Amazon removed Parler from its cloud hosting service, AWS, rendering it inaccessible until the company can find another host. Apple and Google have removed the app from their app stores, making it more difficult for usership access and growth.
What does this mean?
This trend has resulted in many Parler users migrating to Gab.com — a social media platform known for openly accepting the kinds of rhetoric denounced by other social media and big tech companies, under the notion of free speech and the First Amendment Right of the US Constitution.

Gab.com is commonly known to be the platform where the suspected Pittsburgh synagogue shooter, Robert Bowers, had published anti-Semitic comments before he allegedly killed 11 people and wounded many others at the Tree of Life synagogue.
With the Parler platform being inaccessible to most due to the actions taken by Google, Apple, and Amazon, the usership is flocking in mass to Gab.com and may soon also be using Gab's own browser, Dissenter.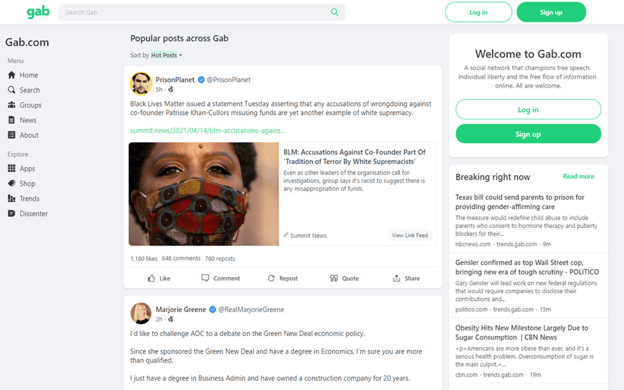 What is Dissenter?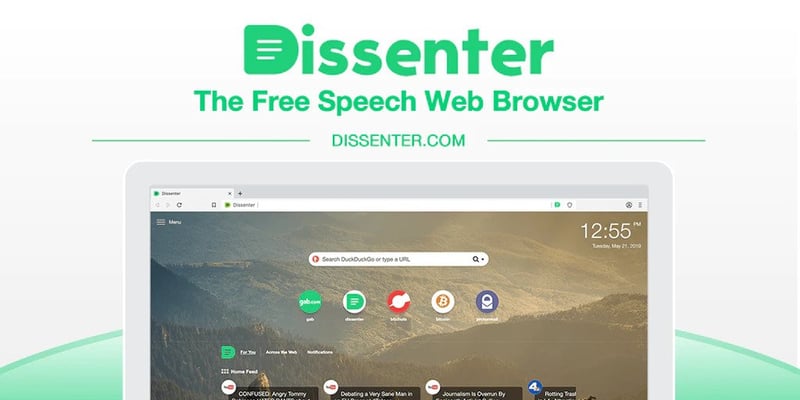 Dissenter is a web browser built by the social networking service, gab.com. In addition to browser capabilities, Dissenter creates a comment section on every URL online, enabling users to leave comments on news articles, blog posts, a Wikipedia page, or even individual tweets, for the rest of the usership to comment on or start a conversation in real-time.
Dissenter states that the need for the browser is because "Moralizing censors, whether they are in governments, media conglomerates, or in the upper echelons of Silicon Valley tech companies, have no business telling anyone what they can or cannot say."
Without the browser, the comments made using Dissenter are invisible to site visitors. Dissenter users do not need a Gab account in order to use the commenting platform, but it can be linked to an individual's account.
What next?
While Parler struggles to regain its footing, Gab's account base continues to grow, reporting some delays due to maintenance as hundreds of thousands across the US attempt to create accounts.
Events are evolving with respect to Parler and to Gab, including recent reports of a Parler database data scrub and leak — which could expose personally identifiable information of those who stormed the capitol in Wednesday's riots. Information inclusive of geo-metadata, deleted photos and videos, and even account information such as names, email addresses, and drivers' licence data may be leaked to the web.
As we've seen in the past week, both traditional and alternative social channels can move and change very quickly — and while it may be difficult to collect data from these platforms, it is important for security intelligence teams and OSINT analysts to keep their finger on the pulse. Understanding the evolution of these platforms and understanding its implications enables vigilant companies to keep their people, assets, and operations safe.