Super Bowl Sunday has come and gone – the score was low, but the security measures were at an all-time high.
The NFL was well prepared for incident response and it's a good thing, too – they intercepted 3 major security incidents before, during, and after the Super Bowl.
We've gathered all the intel from each [security] interception so you can see how the NFL managed to act fast and make sure people weren't tweeting #securityfail post-event. This is what we have learned:
Security issues surrounding large scale events are much more than just access control and counterfeit tickets. The FBI announced a major sting on human trafficking that has resulted in 169 arrests so far.
The 11-day "Operation Interception," targeted criminals in the Atlanta area before the major sporting event, but it's an issue every city faces 365 days a year. As a result, event venues, special task forces, and security groups are leveraging technology, like Navigator, to find criminals engaging with and promoting prostitution.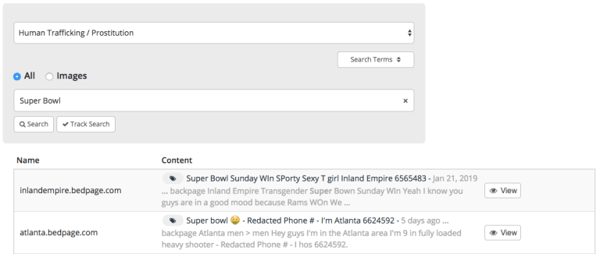 Example search results for a major event, such as the Super Bowl.

Dave Portnoy, the self proclaimed "Enemy of the NFL," snuck into the Super Bowl despite being banned from the event after crashing the NFL media night. Teneo security consultant for the Mercedes Benz Stadium, William Batton, warned the Barstool Sports president that he would be removed if found on the premises.
Portnoy shared a gimmicky post to twitter recapping the first and second quarters. Shortly after, NFL security staff identified Portnoy's location and kicked him out of the stadium.
Major sports leagues are using Navigator to find these trespassers as well as people bragging about running onto fields/courts. These pranks can cost organizations fines upwards of $25,000.
Every year more people sneak into sporting events and boast their success online (some, like Portnoy, apparently do want to get caught!)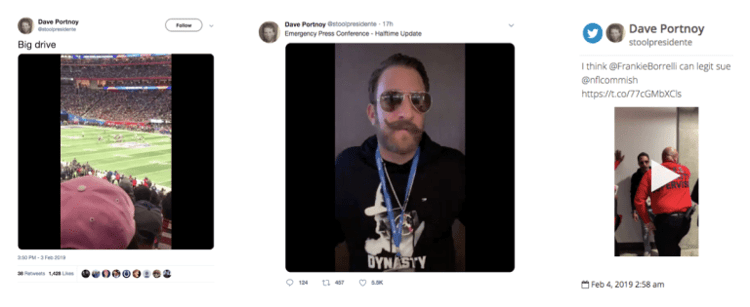 After sharing live-tweets recapping the first and second quarters, NFL security identified Portnoy's location and removed him from the stadium.
Not everyone wants to get caught, though – like the crazed fan wearing a (stolen) S.A.F.E jacket – overtop of a Patriots Jersey.
The post-game security interception had savvy security guards identify a man trying to get into the Patriots locker room to celebrate the Super Bowl victory.
Videos went viral online of the bizarre (and lackluster) attempt to access the team. Fortunately, well trained and prepared security guards were skeptical, and the individual was apprehended and escorted off the premises.
---
Key Learnings
1. Security operations for major events need collaboration across host organizations, cities, task forces, and venues. Without this, criminals would have fully exploited the Super Bowl event for human trafficking.
2. Intelligence sharing is critical to security success before, during, and after an event. Circulating threat actors is one thing – but monitoring activity online is crucial to taking action in real-time.
3. Technology is important – but it's the users that will determine its success. Having alert and well-trained digital and physical security guards will prevent unwanted access to critical security zones.