Users upload terabytes of content to social media every minute. For OSINT analysts, this can present an enormously valuable source of intelligence. But combing through all of this data can be downright overwhelming.
In this post, we'll outline some of the best OSINT tools for social media intelligence, so you can identify potential threats against your organization, investigate possible leads, and automate routine tasks.
Of course, the applications below in no way represent a comprehensive list of OSINT tools for social media research. But it does serve as a good place to get started.
Let's dive in.
Best OSINT Tools for Social Media
Learn More: 5 Cognitive Biases That Could Affect Your OSINT Investigations
1 . Hashatit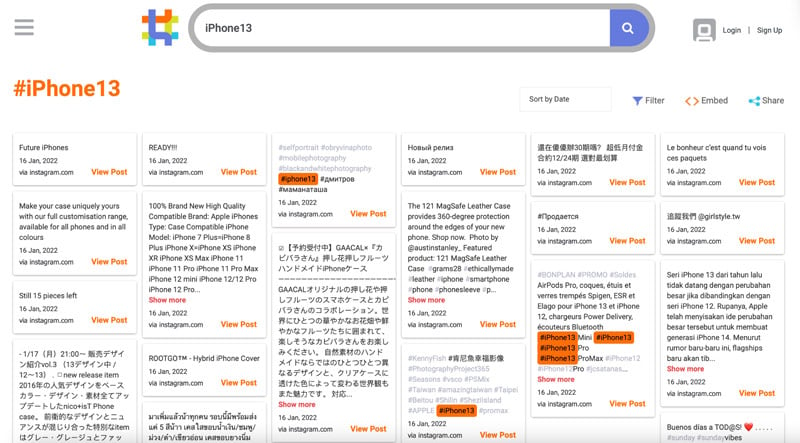 A screenshot of recent social media posts containing the phrase "iPhone13" from Hashatit.
Hashatit represents the Google of social media.
The free service allows users to search hashtags across all of the big social media platforms, displaying any relevant posts in one place. Users can also filter results or employ more advanced search parameters by using the toolkit at the top of the screen.
The only downside of using a free application like Hashatit is the breadth of coverage. The service doesn't pull in content from smaller online communities like message boards, chan boards, and alt-tech social networks. This could, in some cases, represent a big oversight for a corporate security program.
That said, it's still a handy tool for social media research.
2. Snap Map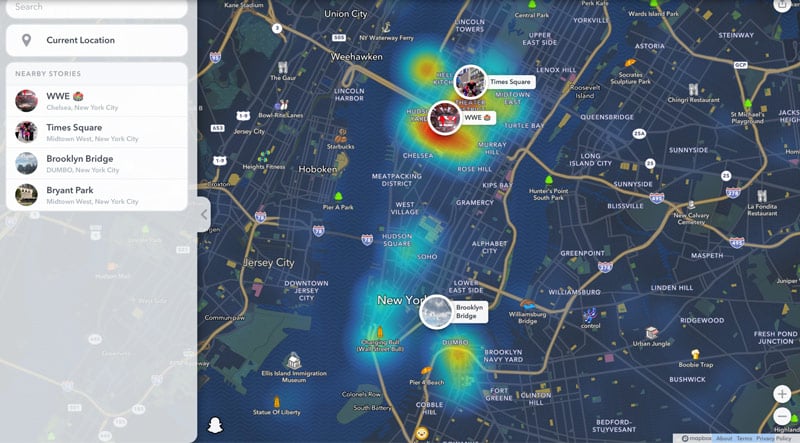 A screenshot of social media activity in New York City, provided by Snap Map.
In 2019, the social network Snapchat released Snap Map to the public.
In this application, you can see geotagged posts submitted by users from around the world. A color-coded heat map indicates areas of high activity. And for additional context, researchers can select individual snaps to see pictures, videos, and comments.
For corporate security teams, Snap Map represents a useful tool to obtain situational awareness in a specific area. Users will often post reports of recent events, such as shootings, natural disasters, and other incidents, well before they get reported in the media.
And because the application makes it hard for users to upload content with spoofed coordinates, posts on Snap Maps are typically more reliable than other sources.
3. Boardreader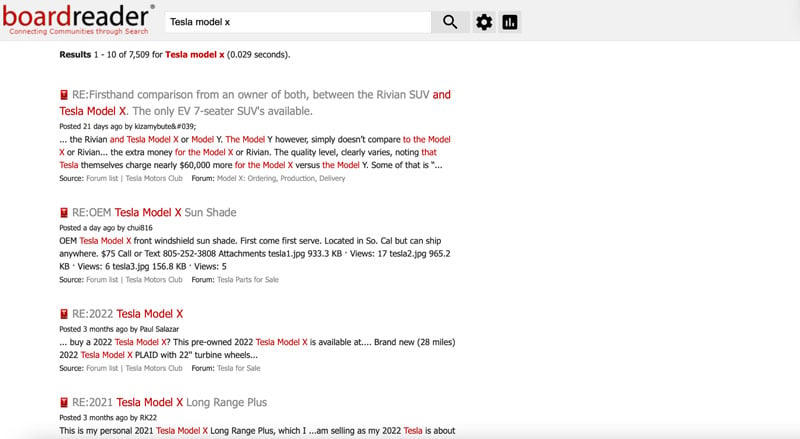 A screenshot of recent forum posts containing the phrase "tesla model x" from Boardreader.
BoardReader is your go-to tool to search for content from blogs, forums, or message boards. The application itself is straightforward to use. First, enter your query term into the search bar on the home page. Boardreader will then return any relevant posts from over the past few months. Click on the cog icon at the top of the screen to refine your search results further.
Like any free OSINT tool for social media, BoardReader has certain limitations. For starters, it doesn't seem to retrieve posts from any forums behind a log-in page. Additionally, the service doesn't appear to scan industry-specific message boards – which often represent real treasure troves of intelligence for researchers.
That said, the site can still be a valuable tool in your investigative efforts.
4. Live UA Map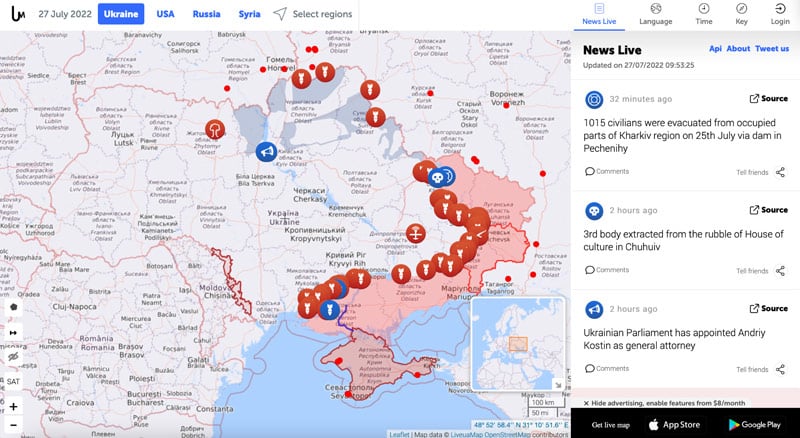 A screenshot of news reports from the conflict in Ukraine provided by Live UA Map.
Need a snapshot of what's happening on the ground in a given region? Then you should check out Live UA Map. The application curates breaking news from social media and plots them on a map interface. You can also review events reported days or weeks ago.
5. Social Mention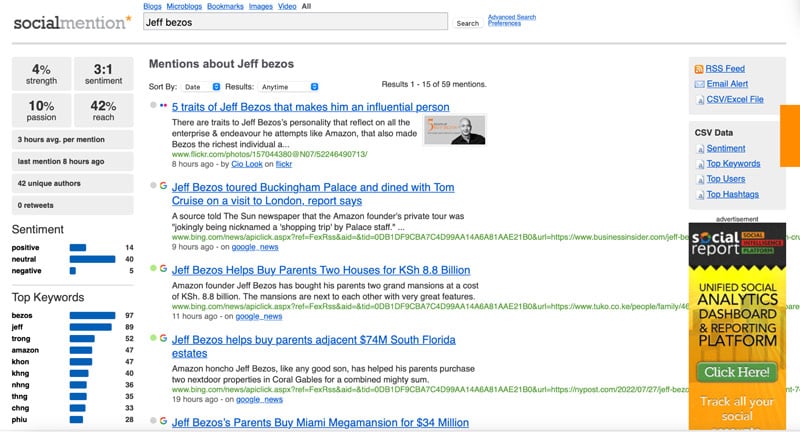 A screenshot of recent news results and social media posts containing the phrase "jeff bezos" from Social Mention.
Like Hashatit, Social Mention is a search engine for social media platforms.
To start, enter your query term into the search bar on the home page. Social Mention will then aggregate user-generated content from over 100 social networks, including YouTube, Digg, FriendFeed, and others.
In addition to search queries, Social Mention also allows you to set up email alerts for specific terms or phrases. That makes it possible to track what people say about your company, product, or protectee online in real-time. This represents an especially useful feature for any brand or executive protection team.
6. Navigator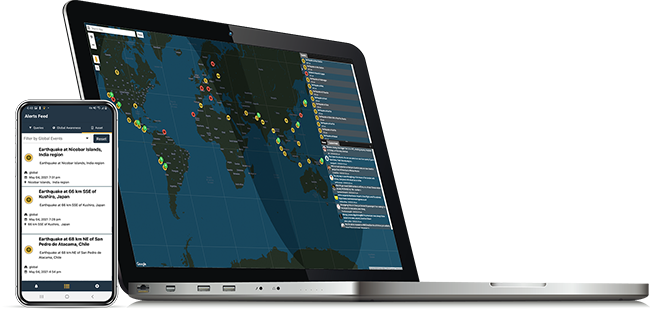 Since OSINT tools for social media are our bread and butter, we hope you don't mind if we add our own Navigator software to the list.
Navigator monitors the internet 24/7 with custom search criteria to detect high-risk threats to your people, assets, and operations. Advanced filtering tools allow users to separate signals from the noise. And along with the largest social media platforms, the software scans more obscure online communities such as forums, chan boards, paste sites, and the dark web.
In addition to automated monitoring, Navigator also provides a suite of investigative and reporting tools. So rather than juggling dozens of different applications, OSINT investigators and security teams can consolidate many of their programs into one easy-to-use platform.
7. Trendsmap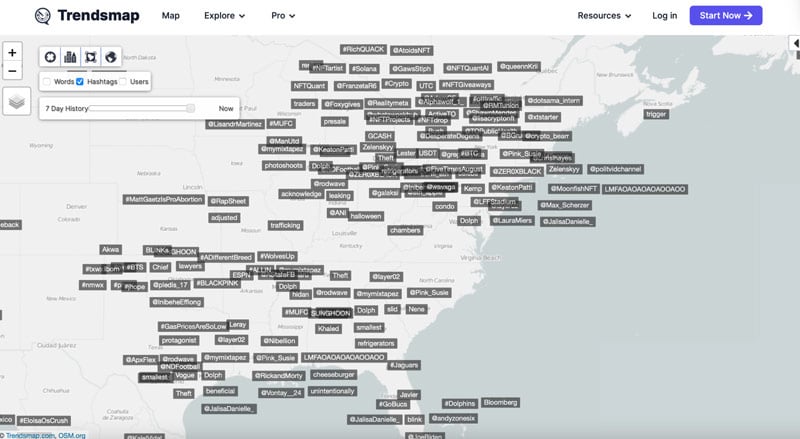 A screenshot of trending topics across the northeast United States from Trendsmap.
Want to know what topics people are talking about online? Look no further than Trendsmap.
This free application displays top hashtags and keywords over the past few hours. And the site's spam detection system ensures that trending terms come from real people, not bots.
Users need to pay to unlock extra features. But the free map provided by the site is useful to have on hand for situational awareness.
---
The Bottom Line on OSINT Tools for Social Media
Applications will never replace good tradecraft. But the right OSINT tools for social media can automate routine tasks, making it easier to spot threats against your organization and investigate possible leads. And that will go a long way toward keeping your assets, employees, and customers safe.
5 OSINT Investigation Mistakes You Don't Know You're Making

We're all 'hard wired' with cognitive biases to simplify complex decisions. But these mental heuristics can lead to faulty analysis, sabotaging OSINT investigations. In our free guide, we list the five most common cognitive biases that plague open-source analysts and outline practical strategies for how to deal with them.