Users upload terabytes of content to social media every minute. For OSINT analysts, this can present an enormously valuable source of intelligence. But combing through all of this data can be downright overwhelming.
In this post, we'll outline some of the best OSINT tools for social media intelligence, so you can identify potential threats against your organization, investigate possible leads, and automate routine tasks.
Of course, the applications below in no way represent a comprehensive list of OSINT tools for social media research. But it does serve as a good place to get started.
Let's dive in.
Best OSINT Tools for Montering Social Media
Web Preserver
SMAT
Discord Leaks
Bellingcat TikTok Analysis Tool
Telepathy
Social Searcher
Search4faces
Redective
Parler Video Upload Map
Lets break down these OSINT tools for social media and how they work:
Navigator: A Social Media Monitoring Tool that Does It All
The issue with launching and using any social media investigation tool is that there are generally some limitations in the type of information it can collect. For example, specific social media tools may be unable to monitor smaller social media platforms or message boards and forums requiring a login. Or information on map-based search tools may need to be included or can change within minutes.

In addition, the actionable intel derived from these tools may be limited. Security personnel may be able to identify potential threats, but not the deeper conversations or connections that will provide the most information possible on who, what, when, and where.

Scanning for hashtags or monitoring the larger social media platforms is an excellent start for advanced social media monitoring. However, most threats begin in the darker corners of the internet, where plans and attacks can develop with little notice from the more prominent online world.

LifeRaft's Navigator can be a valuable part of your social media investigation toolkit.

Navigator monitors where these threats commonly originate by scouring the big social media platforms, blogs, forums, alternative social media channels, classifieds sites, dark web sites, and many more public online sources.

Navigator monitors the internet 24/7 with custom search criteria to detect high-risk threats to your people, assets, and operations. Advanced filtering tools allow users to separate signals from the noise. And along with the largest social media platforms, the software scans more obscure online communities such as forums, chan boards, paste sites, and the dark web.

In addition to automated monitoring, Navigator also provides a suite of investigative and reporting tools. So rather than juggling dozens of different applications, OSINT investigators and security teams can consolidate many of their programs into one easy-to-use platform.

Let's dive into some of the other tools that are most commonly used for social media monitoring:
Hashatit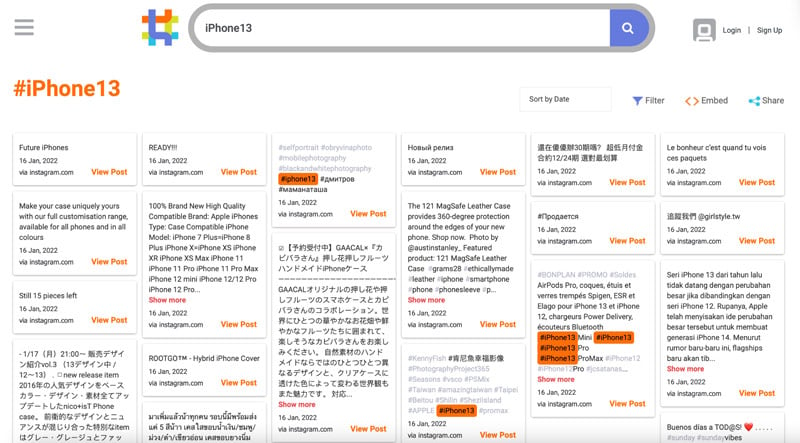 A screenshot of recent social media posts containing the phrase "iPhone13" from Hashatit.
Hashatit represents the Google of social media.
The free service allows users to search hashtags across all of the big social media platforms, displaying any relevant posts in one place. Users can also filter results or employ more advanced search parameters by using the toolkit at the top of the screen.
The only downside of using a free application like Hashatit is the breadth of coverage. The service doesn't pull in content from smaller online communities like message boards, chan boards, and alt-tech social networks. This could, in some cases, represent a big oversight for a corporate security program.
That said, it's still a handy tool for social media research.
Snap Map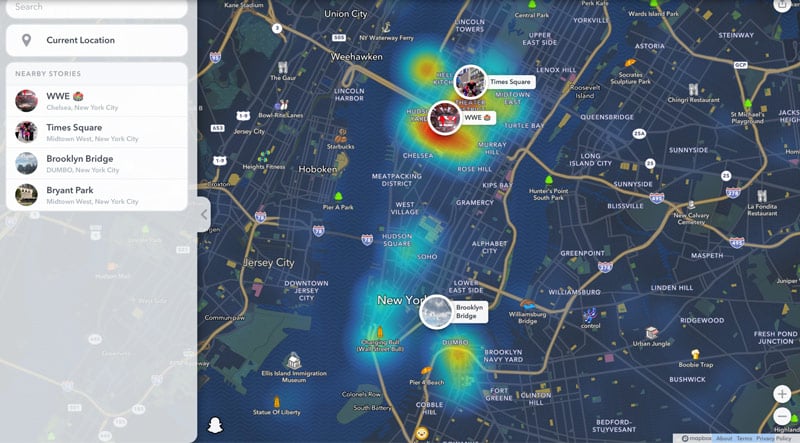 A screenshot of social media activity in New York City, provided by Snap Map.
In 2019, the social network Snapchat released Snap Map to the public.
In this application, you can see geotagged posts submitted by users from around the world. A color-coded heat map indicates areas of high activity. And for additional context, researchers can select individual snaps to see pictures, videos, and comments.
For corporate security teams, Snap Map represents a useful tool to obtain situational awareness in a specific area. Users will often post reports of recent events, such as shootings, natural disasters, and other incidents, well before they get reported in the media.
And because the application makes it hard for users to upload content with spoofed coordinates, posts on Snap Maps are typically more reliable than other sources.
Boardreader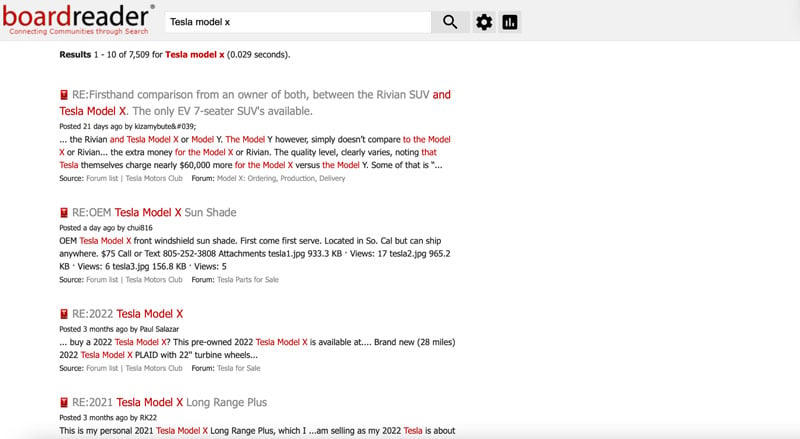 A screenshot of recent forum posts containing the phrase "tesla model x" from Boardreader.
BoardReader is your go-to tool to search for content from blogs, forums, or message boards. The application itself is straightforward to use. First, enter your query term into the search bar on the home page. Boardreader will then return any relevant posts from over the past few months. Click on the cog icon at the top of the screen to refine your search results further.
Like any free OSINT tool for social media, BoardReader has certain limitations. For starters, it doesn't seem to retrieve posts from any forums behind a log-in page. Additionally, the service doesn't appear to scan industry-specific message boards – which often represent real treasure troves of intelligence for researchers.
That said, the site can still be a valuable tool in your investigative efforts.
Live UA Map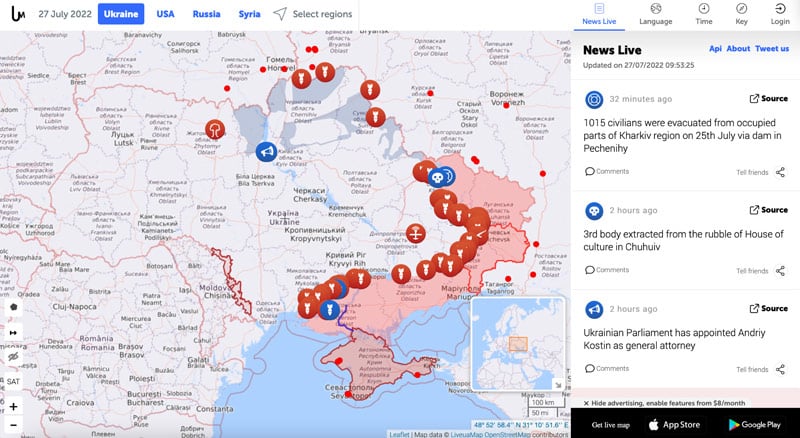 A screenshot of news reports from the conflict in Ukraine provided by Live UA Map.
Need a snapshot of what's happening on the ground in a given region? Then you should check out Live UA Map. The application curates breaking news from social media and plots them on a map interface. You can also review events reported days or weeks ago.
Social Mention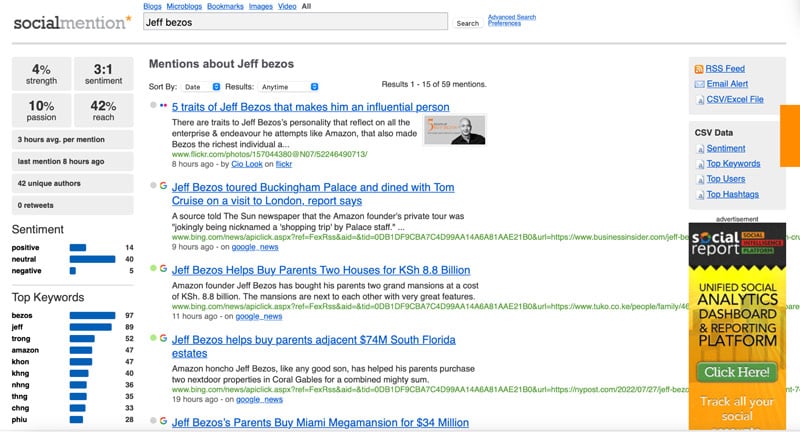 A screenshot of recent news results and social media posts containing the phrase "jeff bezos" from Social Mention.
Like Hashatit, Social Mention is a search engine for social media platforms.
To start, enter your query term into the search bar on the home page. Social Mention will then aggregate user-generated content from over 100 social networks, including YouTube, Digg, FriendFeed, and others.
In addition to search queries, Social Mention also allows you to set up email alerts for specific terms or phrases. That makes it possible to track what people say about your company, product, or protectee online in real-time. This represents an especially useful feature for any brand or executive protection team.
Web Preserver
Web Preserver functions differently than the previously mentioned tools. Web Preserver scours social media, but its primary function is allowing security professionals to capture social media posts and comments and store them on their servers or computers. Its standout feature lies in its ability to perform bulk preservation and automation, enabling you to gather months' worth of evidence in hours.

WebPreserver is a Chrome extension you can install effortlessly on your browser toolbar. Preservation is easy – navigate to the specific post or page, select the preservation option from the plugin menu, and save it.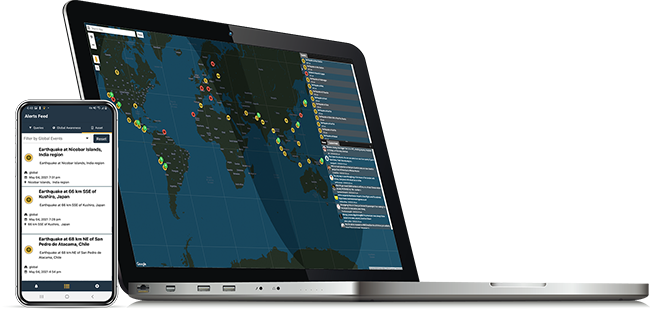 Trendsmap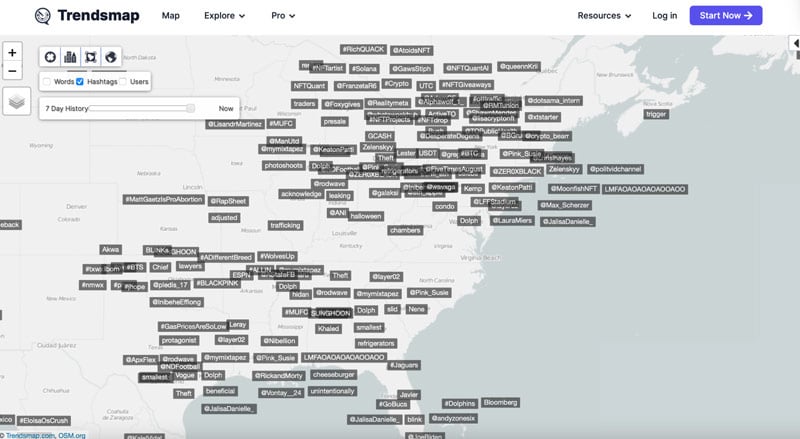 A screenshot of trending topics across the northeast United States from Trendsmap.
Want to know what topics people are talking about online? Look no further than Trendsmap.
This free application displays top hashtags and keywords over the past few hours. And the site's spam detection system ensures that trending terms come from real people, not bots.
Users need to pay to unlock extra features. But the free map provided by the site is useful to have on hand for situational awareness.
SMAT
Screenshot of SMAT website home page
Thanks primarily to social media, businesses have become the new target for disinformation campaigns. Effective campaigns can wreak havoc on businesses, causing substantial damage to their brand equity and hampering daily operations. Moreover, false rumors can potentially jeopardize the safety of both customers and employees. Enter SMAT.

This free social media tracking tool pulls data from dark web platforms like Parler, Telegram, Gab, 4Chan, and 8kun- networks that have become the breeding ground for creating and disseminating harmful narratives and real-world violence. SMAT then provides straightforward ways to analyze and visualize that data for analysts and organizations concerned with monitoring emerging threats. For example, easy- to use- data visualization tools like Timeline, Link Counter, and Hashtag Director allow analysts to find top users and sub-forums discussing a specific topic. Or, analysts can quickly search critical terms and read posts on various platforms. Even better, users can pivot between new leads without reading through disturbing content in its original location.
DiscordLeaks
Tragedies like the one in Allen, Texas, underscore how common it is for political extremists and threat actors to express their intentions online. To that end, DiscordLeaks on Unicorn Riot has created this free social media monitoring tool containing thousands of leaked messages from the most active white supremacist groups in the United States. While many of these conversations were hidden from the public, Discord Leaks has made these chats available to journalists, researchers, and intelligence analysts to use in their work.
Bellingcat TikTok Analysis Tool
TikTok has emerged as one of the world's most successful social networks. It boasts over 1.4 billion active monthly users- placing it ahead of established platforms like Pinterest, Instagram, and Facebook. Its astonishing growth has made it a valuable social media tracking tool for open-source investigators.

The Bellingcat TikTok analysis tool allows analysts to collect a dataset of TikToks connected with specific hashtags over a more extended period. Additionally, it provides insight into what other topics appear together with specific hashtags most consistently. Analyzing patterns in the joint use of hashtags can help analysts spot coordinated influence or disinformation campaigns. Additionally, if the same set of hashtags is used repeatedly, examining a large cohort of posts can provide contextual insight for specific hashtags.
Telepathy
Telegram has become the go-to "free speech" platform. Today approximately 550 people use the service every month. Accordingly, security teams have started paying more attention to this platform and considering the best tools to conduct their investigations.

Telepathy is described as the "Swiss Army Knife" of Telegram tools, allowing analysts to archive Telegram chats. Archived data include replies, media content, reactions, and comments. Additionally, Telepathy gathers member lists, analyzes top posters in a discussion, and maps forwarded messages. This tool has significant uses for identifying potential threat actors and locations.
Social Searcher
This search engine allows analysts to track all public mentions on social media networks and the internet. Users can quickly assess what people may be saying about a business in one user-friendly dashboard, which helps save valuable time and resources.

Although primarily marketed as a brand monitoring tool, Social Searcher has applications for social media investigation. The search engine allows analysts to identify and explore popular positive social posts as well as popular negative ones. Focusing on the negative posts may reveal potential threat actors and plans beyond the average disgruntled customer.

Additionally, Social Searcher is partially free. Security professionals can take advantage of the free aspects of the search engine and upgrade if required.
Search4faces
A picture, as they say, is worth 1000 words. Images posted online contain a treasure trove of information. Every posted photo has EXIF data- information like the type of camera used, camera settings, and even where and when the photo was taken.

In keeping with this theme, Search4faces is a reverse-face search engine social media monitoring tool that can help find photos of a person across the internet. The right person or someone very close can be found within seconds using a combination of AI, facial recognition, and machine learning. After a picture is found, the search engine provides a link to the person's profile on the social network ok.ru and vk.com, and others.

Search4faces' primary limitation is that only four databases have been partially or entirely collected: avatars of Clubhouse users, Tiktok users, and the main photos of the social network Odnoklassniki and Vkontakte.

This innovative tool is still handy for social media research and will likely grow over time.
Redective
Launched in 2005, Reddit is one of the most popular online websites today, with 50 billion monthly page views and 430 million daily active users. Members love using the site to get news, post memes and engage in dialogue with like minds. Additionally, Reddit is a valuable social media monitoring tool. Security professionals can use the site to identify threats from inside and outside an organization. Additionally, monitoring site forums allows for easy tracking of events that could impact a company's operations.

To that end, Redective is a simple (and free) tool that searches the profile of a Reddit user and then collects and displays all found data. Keep in mind that Redective does not store any data on its server. Redective works in real-time by querying Reddit each time a search is performed.
Parler Video Upload Map
Launched in 2018, Parler is an American-based social networking service. Parler is primarily favored amongst right-leaning groups and has over 20 million registered users and 40,000 daily active users. This platform gained particular notoriety during the Capitol riots. It demonstrates that security teams not monitoring alt-tech networks increase the risk of missing valuable threat intelligence.

Parler Video Upload Map shows the approximate location (within 100ft) of where Parler videos have been uploaded. Security teams can zoom in on a specific place and see where people have taken videos and uploaded them to Parler. Remember that the location data comes from where the video was recorded, not the upload place. Also, clicking on the video's dot on the map gives date stamp information.
Unraveling the Superiority of LifeRaft Navigator
LifeRaft's Navigator transcends most OSINT tools designed for social media intelligence in numerous ways:
Comprehensive Coverage: Unlike tools like Hashatit or Boardreader which are restricted to certain platforms or face limitations in accessing forums requiring a login, Navigator explores a vast spectrum of online spaces including major social media platforms, blogs, forums, alternative channels, dark web sites, and more.
Real-Time Monitoring: Tools like Social Mention provide real-time alerts, but Navigator takes it a step further with 24/7 monitoring using custom search criteria to detect high-risk threats, ensuring no critical information slips through the cracks.
Advanced Filtering: Navigator's advanced filtering tools help in sifting through the noise to locate pertinent information, a feature not commonly found.
Investigative and Reporting Suite: Unlike standalone tools like Snap Map or Boardreader, Navigator offers an integrated suite of investigative and reporting tools, providing a one-stop solution for OSINT investigators and security teams.
Dark Web Scouring: Specialized tools like SMAT focus on dark web platforms, but Navigator includes dark web scanning as part of its extensive monitoring routine, providing a broader overview of potential threats.
Automated Monitoring: Automation is a key feature in Navigator, allowing security personnel to focus on analysis rather than the tedious task of data collection, a capability not inherent to many tools like Web Preserver or Trendsmap.
Multi-Platform Synthesis: Unlike tools like Telepathy or Redective which are platform-specific, Navigator synthesizes data across a multitude of platforms providing a holistic view of the digital threat landscape.
Ease of Consolidation: The ability to consolidate numerous applications into one platform makes Navigator a superior choice for OSINT practitioners aiming to streamline their workflow and enhance operational efficiency.
---
The Bottom Line on OSINT Tools for Social Media
Applications will never replace good tradecraft. But the right OSINT tools for social media can automate routine tasks, making it easier to spot threats against your organization and investigate possible leads. And that will go a long way toward keeping your assets, employees, and customers safe.
Secure Your Digital Horizon with LifeRaft's Navigator
Don't let critical insights slip through the cracks. In an ever-evolving digital landscape, LifeRaft's Navigator provides a proactive approach to social media intelligence with a panoramic view of the digital domain, ensuring that every potential risk is promptly identified and analyzed.

Contact our team today, and learn more about how you can use social media monitoring tools to make your organization and your personnel safer from the inside out. With Navigator, you're not just reacting to threats, you're staying ahead of them. Your journey towards robust digital resilience begins here, with LifeRaft's Navigator at the helm.

5 OSINT Investigation Mistakes You Don't Know You're Making

We're all 'hard wired' with cognitive biases to simplify complex decisions. But these mental heuristics can lead to faulty analysis, sabotaging OSINT investigations. In our free guide, we list the five most common cognitive biases that plague open-source analysts and outline practical strategies for how to deal with them.