Keeping your skills sharp represents an ongoing challenge for open-source analysts. But if you're reading this post, then you probably already knew that — which is why you're searching for new OSINT blogs and resources.
Becoming an effective analyst is a bit like staying in shape – you don't just hit the gym once or twice and keep fit forever.
To stay at the top of your game, you must keep tabs on the latest tools and techniques as well as what's happening in the OSINT community at large.
So to help you out, we compiled a shortlist of our favorite OSINT blogs.
These sites represent some of the most popular and frequently visited among the LifeRaft team here internally. And we believe every analyst should keep them in their bookmarks folder.
So now with that preamble out of the way, let us present our top seven OSINT blogs for analysts, investigators, and researchers.
Learn More: 5 Cognitive Biases That Could Affect Your OSINT Investigations
Our 7 Favorite OSINT Blogs
Now that you have seen the list, let's break down each of the OSINT blogs above.
During a conflict, belligerents on all sides flood the media with disinformation. So how can outside observers tell fact from fiction?

Enter Bellingcat.

Launched in 2014, Bellingcat now ranks as one of the world's most respected (or despised depending on who you ask) collection of investigative journalists. The group has become renowned for exploiting open-source intelligence to highlight everything from government corruption and disinformation to criminal organizations and human rights abuses.

In addition to outstanding journalism, Bellingcat also provides educational resources for OSINT investigators. Also be sure to check out their case studies, where authors break down tactics and techniques behind real-world investigations.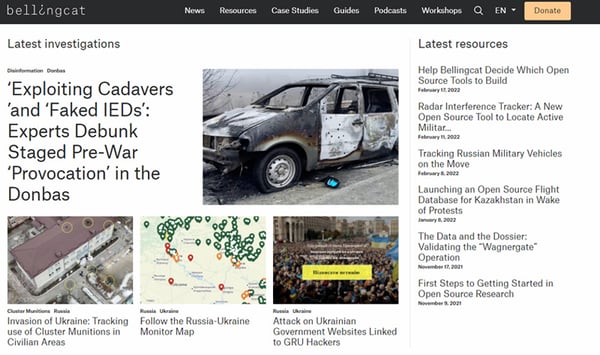 Here are some of our favorite reads:
For almost three decades, Cynthia Hetherington, MLS, MSM, CFE, CII, has led investigations into fraud and corporate due diligence. Her efforts have resulted in the recovery of millions of dollars in high-profile corruption cases – in addition to assisting with the investigation of the two largest Ponzi schemes in U.S. history.

Today, Ms. Hetherington serves as the founder and president of the Hetherington Group. And their consultancy firm assists organizations with due diligence, corporate intelligence, and cyber investigations, in addition to OSINT training.

For analysts, the Hetherington Group's blog serves as a treasure trove of investigative tips, tricks, and resources.

We particularly enjoy their Timely Tips for the OSINT Pro series, which includes a list of useful tools for those doing fieldwork.
Here are some of our favorite reads:
Want to learn more about your colleagues in the OSINT community? Then be sure to check out the OSINT Curious webcast.
Every other week, members of the OSINT Curious Advisory board interview experts from around the web to discuss their tools, techniques, and projects.
In addition, the OSINT Curious blog and YouTube channel also represent a great collection of educational resources for analysts of all skill levels.
Here are some of our favorite reads, tutorials, and interviews:
Michael Bazzell helps people disappear.

After 20 years in the public sector as an investigator, Bazzell and his team help clients conduct online exposure assessments and minimize their digital footprints.

Several government agencies use his book, Open Source Intelligence Techniques and Extreme Privacy, as training materials for intelligence gathering.

In addition to this book, Bazzell also hosts a weekly podcast called The Privacy, Security, and OSINT Show.

Each week, he presents new ideas to help listeners protect themselves from online threats and become better OSINT investigators.
Some top episodes to check out:
Every time you go online, you leave digital fingerprints. That presents a big problem for OSINT analysts, as such clues could alert targets that they are the subject of an investigation.

Authentic8, however, provides a suite of web isolation tools. These help researchers cover their tracks online and blend into the digital crowd.

Authentic8's technology impressed us so much, we announced a partnership with them last year.

In addition, the Authentic8 team also delivers valuable tips for analysts with their OSINT blog. And every other week, the team prepares a summary of OSINT-related news and events from around the world.
Some of our favorite reads:
OSINT Jobs represents the go-to resource for those looking to turn their passion for open source intelligence into a full-time career. And the site's job board serves as one of the most comprehensive lists of available OSINT positions worldwide.

But in addition to a job board, the site also features regular blog posts featuring analysts from many different industries and specialties.

These interviews serve as fantastic resources for those looking to break into the OSINT field or take their career to the next level.
Here are a few of our favorite reads:
Aware Online provides OSINT training for private and public sector investigators, analysts, and researchers. And these sessions cater to people at all skill levels, from total beginners and weekend hobbyists to experienced professionals.

In addition to training, Aware Online also publishes educational resources for OSINT analysts looking to sharpen their skills.

Want to learn how to use Google Alerts for threat monitoring? Aware Online has a blog post on that topic.

Have you ever considered using Spotify for OSINT investigations? They have a full breakdown of how to do it.
Here are a few of our favorite reads:
---
Wrapping It Up on OSINT Blogs
To be clear, the collection above hardly represents a comprehensive list of OSINT blogs and resources available today.

The open-source intelligence community has exploded in size over the past few years. And with that growth, so has the number of educational tools and resources – way more than what we could include in this short post.

That said, the sites above provide a great place to get started.
5 Investigation Mistakes You Don't Know You're Making

We're all 'hard wired' with cognitive biases to simplify complex decisions. But these mental heuristics can lead to faulty analysis, sabotaging OSINT investigations. In our free guide, we list the five most common cognitive biases that plague open-source analysts and outline practical strategies for how to deal with them.